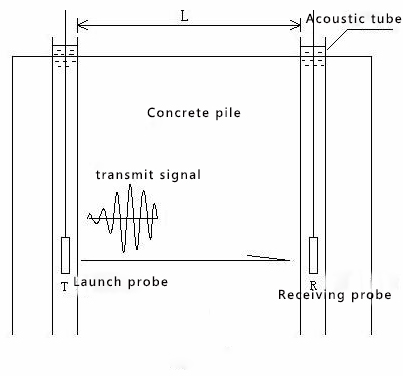 Ultra
sonic
is a kind of elastic wave. The concrete medium is regarded as an elastic body. The propagation of ultrasonic waves in concrete obeys the law of elastic wave propagation.
Concrete ultrasonic testing mainly adopts the so-called "penetration method", which uses a transmitting transducer to transmit ultrasonic pulse waves to allow the ultrasonic waves to propagate in the concrete, and then the receiving transducers receive them.
Concrete i
nformation
s
, the changes of these parameters can be accurately measured, and concrete properties, internal structure and composition can be inferred [1].
Ultrasonic testing of foundation piles is to embed the acoustic tube in the foundation pile, place the transmitting transducer and the receiver in the two acoustic tubes respectively, and fill the acoustic tube with water as the coupling medium (see Figure 2.1 .1). When the transmitting transducer emits ultrasonic waves, the ultrasonic waves propagate in the concrete and reach the receiving transducer and are measured and recorded. From this, the concrete sound velocity can be calculated: